Camping on the Salmon River – Everything You Need to Know
Camping on the Salmon River is the closest we have come to paradise. Since 1982 we have been perfecting everything about our camp culture. From spacious tents and sleeping mattresses to mouth watering entrees and beer pairings, come discover the magic of multi-day rafting with Confluences River Expeditions!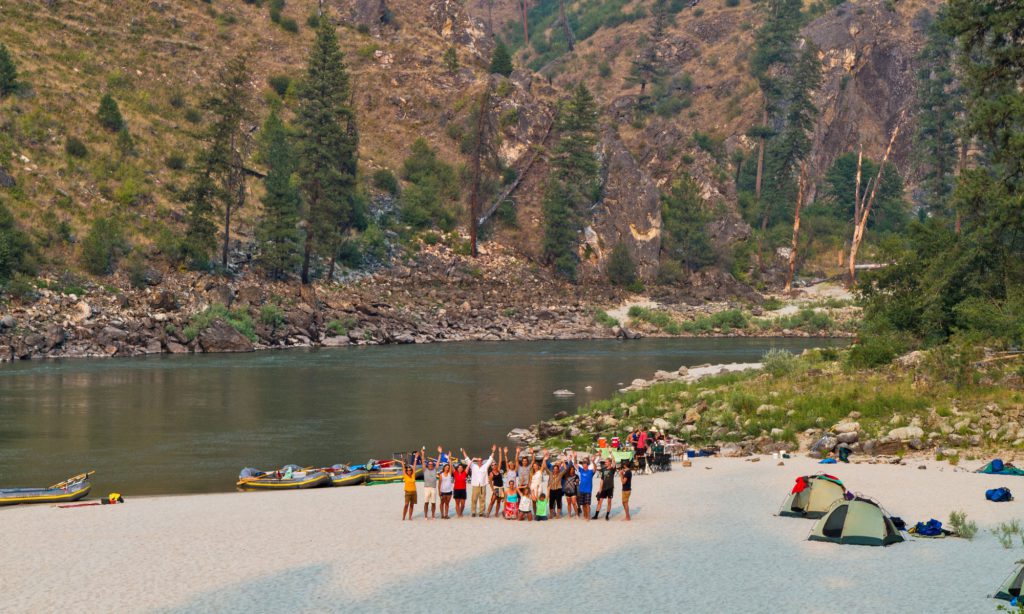 Pulling into camp along the Salmon River every afternoon is one of the highlights of a trip with Confluences River Expeditions. Whether we choose a huge white sand beach, or a gorgeous ponderosa pine stand, we bring all the amenities that'll make you excited to transition into camp-life. The flow of a Confluences trip is intentionally designed to create an environment for you to relax, unplug, and explore. As soon as we hit the beach, the guides unload the boats and each guest will have the opportunity to select their own personal tent sight where they will create a "home-away-from-home" for the evening. Once you've changed into your comfy camp clothes, head on over to the fire and find out what's for dinner! From there you'll get an idea of what fun activities are brewing up specifically for that wilderness evening spent under a canopy of stars.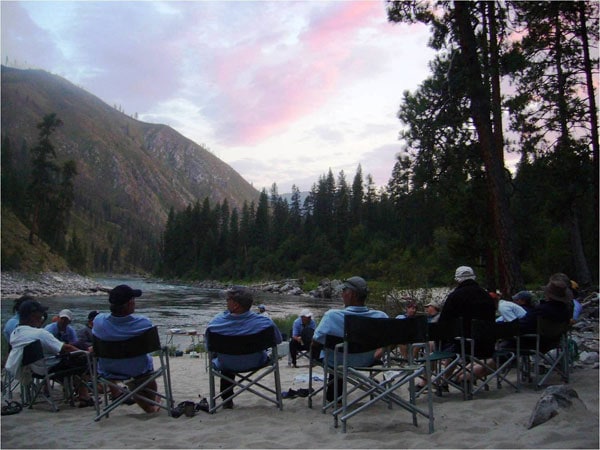 Gear
Our tents and assorted camp gear have been filtered through years of experience to give you the most comfortable, spacious, and luxurious adventure on the river. It doesn't matter if you're a seasoned backpacker or a camping beginner, our mission is to make everyone comfortable on our adventures. We utilize easy to set up, incredibly roomy tents that fit two guests wonderfully. If a solo tent is what you're after that is no problem at all, you'll be able to select this option when booking. Each guest is also given a freshly laundered and oh-so-comfy sleeping bag for the duration of the trip. All of these items are placed upon our prized "Paco-pads", without a doubt the most comfortable wilderness sleeping mattress in the world. You won't believe how dreamy the set up is. You'll understand why some folks call it "glamping" (glamour camping). Combine this tent set up with CRE mugs, comfy folding chairs, evening fires, and decadent meals. Getting to camp each afternoon may become your favorite part of the day!
Clothing
Summer weather on the Salmon is usually glorious. Hot sun-filled days ideal for swimming give way to cloudless nights perfect for sleeping under a blanket of stars. However, inclement weather can roll in and it's important to be prepared. Just in case, we highly recommend bringing a set of rain gear, jacket and pants. We also suggest bringing warmer layers for cooler nights. A fleece or down jacket usually does the trick. Don't forget to pack comfy clothes for camp life too. Along with something festive for costume night! If you have any questions about packing for your Salmon River rafting trip don't hesitate to call, our staff are always happy to talk about gear. 
Food
At Confluences you'll find the "tower of power" (3-4 stacked dutch ovens) a common site in our kitchen. We LOVE cooking in these incredible tools. They allow us to turn any camp along the Main Salmon into a five-star restaurant! In the morning as you're taking in the first warm rays of sun you may smell stuffed french toast sizzling on the griddle combined with the warm, rich aroma of coffee. In the evening, the air could be thick with the flavor of pork tenderloin and raspberry chipotle cream sauce, or filet mignon with grilled onions and a side of rosemary red potatoes. Each dinner is served with optional beer or wine pairings, handpicked for the way they complement each flavor of the meal.
We pride ourselves on our menu and can accommodate any food restriction, whether allergy or preference. And don't worry, we have great menu options for youngsters too, everyone at the table will be a happy camper. Read more about Confluence's food philosophy here. Come see why eating on a river trip is almost as much fun as the rapids!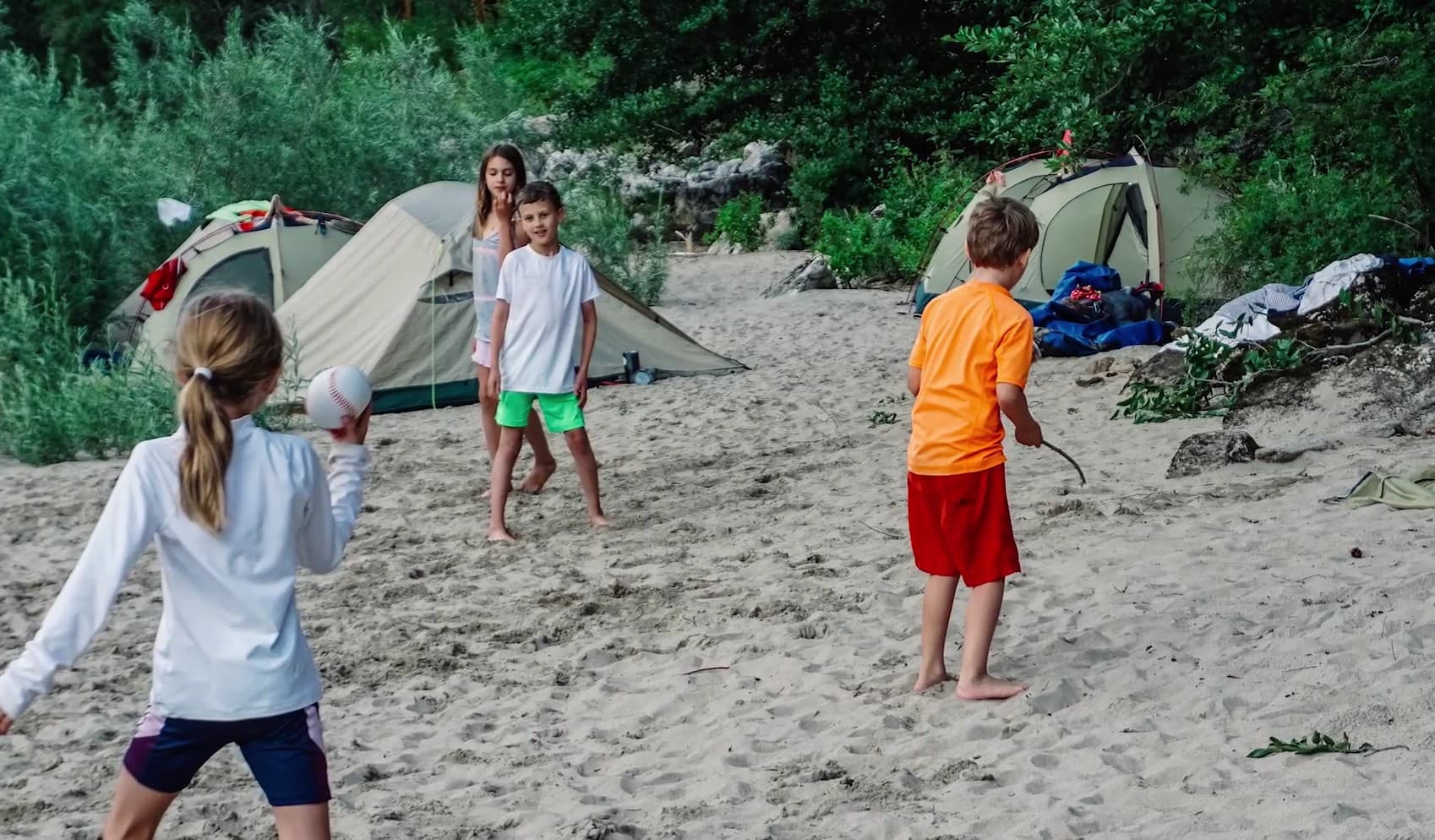 Camp life
Settling into camp-life is one of the best parts of a trip with Confluences. Whether you're looking to kickback with your toes in the sand, explore a gorgeous side creek, fish the afternoon away, or partake in fun leadership and team-building activities our guides will point you in the right direction! We also have a fire each evening that usually inspires some singing, story-telling, s'more roasting, and star gazing. Every evening on our trips is designed for you to make the most out of your time in the Frank Church Wilderness.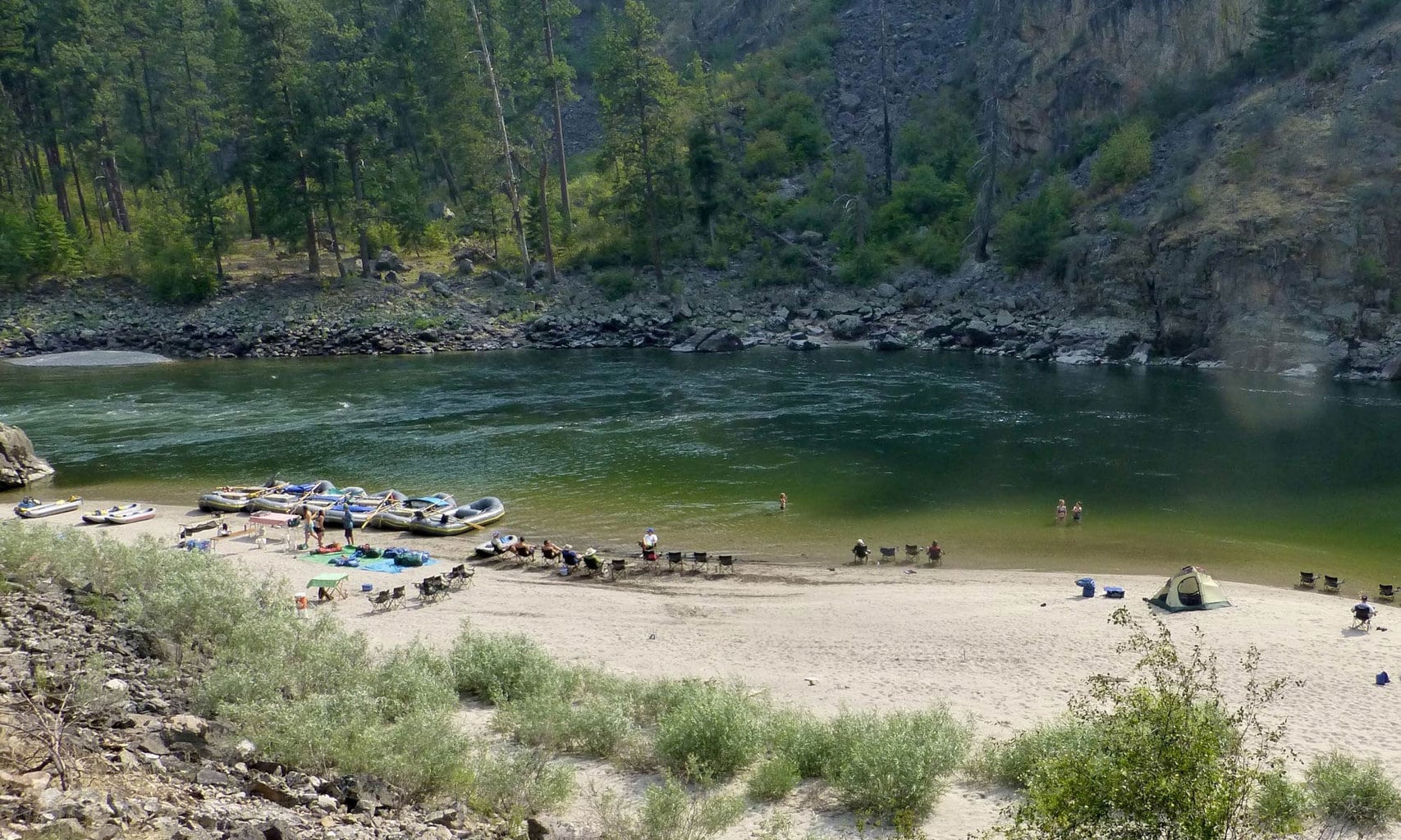 Bathrooms
If you're nervous about the restroom situation let us put your mind at ease. Rest assured that we have refined our bathroom system over the last 38 years and have come up with a sanitary method that is simple, PRIVATE, and incredibly scenic. Read more about our "groover" here. Don't hesitate to reach out with any questions! 
Get in touch
Our reservation team is happy to talk about any aspect of your river trip. We have the ability to accommodate nearly any request. Give us a ring and let's see how we can make your Salmon River adventure simply unforgettable! (208)-756-6215 or info@confluencesriverexpeditions.com
Confluences River Expeditions has offered world-class Idaho rafting trips on the gorgeous River of No Return since 1982. We give personal service from the first phone call to the last rapid. Book your unforgettable Main Salmon River adventure today!