Current Idaho Snow Pack and What It Means
What's going on with all the snow in the mountains and how does it impact this upcoming summer?
Here in Idaho we are lucky to have an abundance of free flowing rivers. What does this mean exactly? A free flowing river is defined as a waterway that has been largely unaffected by human made changes to its flow and connectivity. Dams, for example, are one of the largest and most notable obstructions we humans can put in place to restrict a river's free flowing character. Way up high in the Columbia River watershed flows the mighty Salmon River, tucked away in its Idaho sanctuary, the Frank Church Wilderness. In this remote and wild mountain stronghold the Salmon's free flowing character has been preserved through both inaccessibility and legal acts.
The free flowing character of the Salmon River means that the water level within the river corridor fluctuates throughout the year. Because there are no dams to sequester snow melt in reservoirs and release consistent amounts of water, the Salmon witnesses an annual pattern of water rise and drop. Typically this looks like high water in the spring that turns into low water as the year continues on. As the snow begins to melt it floods the rivers and tributaries creating high water events that are sometimes breathtaking to behold! This usually happens between April and June. A ride down the river during this time period is sure to be exhilarating. After June the water level comes down and the river takes on its normal, more friendly appearance. Time to break out the swimsuits and beach chairs! August and September are usually the last rafting months of the year. The water has reached a low point and the weather is beginning to turn sour. These months usually see an influx of fishermen and women hoping to bait big trout out of the deep slow moving eddies.
This annual pattern comes and goes time and time again. For free flowing rivers it is largely powered by snow! Think of mountainous snow fields and capped peaks as giant suspended reservoirs where the water is trapped in a frozen, inaccessible state. When the season changes and temperatures rise this giant reservoir begins to release its liquid treasure. Although this phenomenon is typically consistent, the amount of water that this yearly reservoir will release is rarely the same. This is because not all snow is created equal. Some snow holds more water than others and this is where we begin to understand how to value it.
Snow Water Equivalent, or SWE, is the term used to describe how much liquid water is held in frozen snow. You can think about it as the depth of liquid water that would theoretically result if one melted the entire snow pack instantaneously. This measurement is important for many organizations that rely on snow melt. Examples being reservoirs, power companies, farmers, and rafting organizations.
The good folks at the United States Department of Agriculture and the National Water and Climate Center collect data on snow water equivalent through multiple snow telemetry, or SNOTEL, monitoring stations throughout the United States. There is an incredible amount of interesting information on their website. Find more here! A tool that we at Confluences look at is the Current Snow Water Equivalent Percent of Normal Maps created by the USDA and NRCS.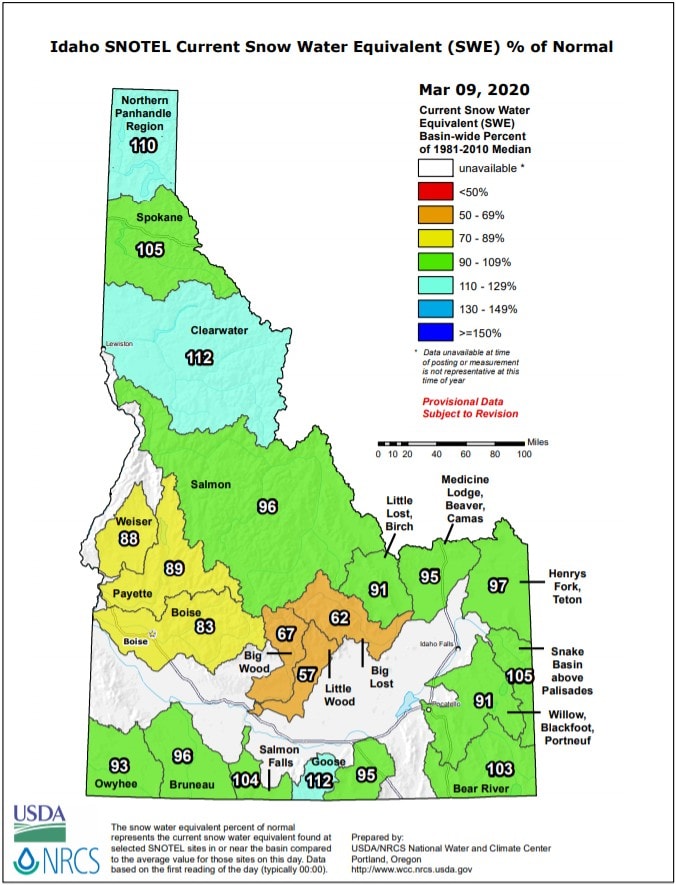 These maps give us insight into how the snow pack shapes up and transforms throughout the winter. Currently the SWE in our neck of the woods is looking right around average at 96% for the Salmon River area! This may change throughout the rest of the winter, but at the moment it looks like we are heading into another classic Idaho water year! Expect some big water in April and June transitioning into perfect flows for that epic family vacation in July and August! See you out on the water!
Confluences River Expeditions has offered world-class Idaho rafting trips on the gorgeous River of No Return since 1982. We give personal service from the first phone call to the last rapid. Book your unforgettable Main Salmon River adventure today!